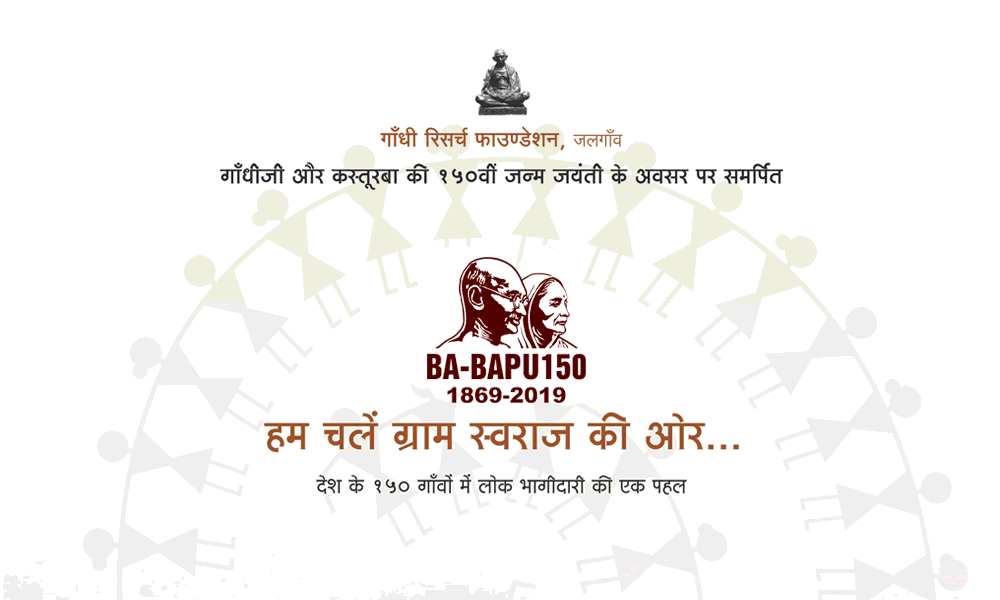 Commemorating the 150th birth anniversary of Mahatma Gandhi and Kasturba Gandhi in 2019, Gandhi Research Foundation (GRF), in association with Jain Irrigation Systems Limited (JISL), has launched "Ba-Bapu150", an initiative that revitalises the principles of Mahatma Gandhi for today's context, bringing them in sync with the needs of rural development. The initiative will develop and implement a multi-disciplinary and participatory model for the socio-economic and systemic transformation of village communities, targeting 150 villages across eight states of India, in line with the principles of Samriddhi and Sadbhavna (Prosperity and Harmony), with the goal of attaining Sarvodaya (Welfare of All). In its holistic approach, Ba-Bapu150 will partner with leading development institutions from the public and private sector as well as from civil society that represent "best practice" in their respective fields, and leverage their knowledge, experience and resource bases.
Ba-Bapu150 will adopt an integrated programmatic and multi-disciplinary approach over an initial period of five years (2018-2023), covering the following six thematic priority areas:
1. Rural Health (including diet for pregnant women and babies; de-addiction; dental and ophthalmic treatment)
2. Primary Education (including value education)
3. Safe Water, Sanitation & Hygiene (WASH)
4. Watershed Management (including integrated irrigation systems; water budgeting; participatory ground-water resource management; community-based renewable energy management; integrated landscape management)
5. Agriculture (including youth agri-leadership training; digital and precision agriculture; value chain and market linkages)
6. Peoples' Institution Building (including Village Youth Leadership Groups; Farmer Producer Organizations; Joint Liability Group / Self Help Group Clusters; rural entrepreneurship)
In contrast to traditional integrated rural development programs that adopt a fixed delivery procedure, Ba-Bapu150's approach focuses on an extended community engagement phase to optimize the agenda-setting by the villagers themselves. During this phase, a number of information and awareness campaigns will be organized in collaboration with national 'best practice' partners, to stimulate the community to realize self-determined development. Once the community has decided on its thematic priority and has formulated related goals, the Ba-Bapu150 core team and its partners will guide the community, identifying required tools and resources, and implementation steps.