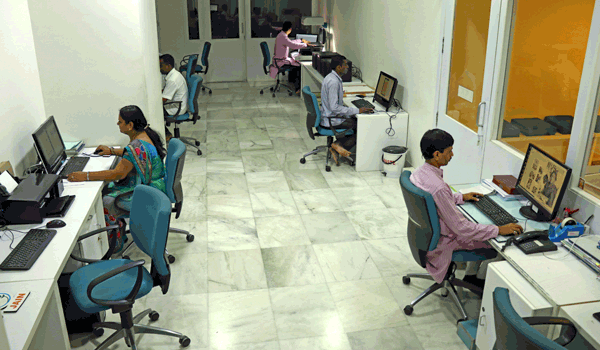 Realising the paramount importance of archiving as a crucial component of research, the GRF has created special facilities within the building. An air-conditioned vault of 2000 ft² houses fire-, climate- and pilfer-proof safes to preserve the archival material. The facility has strict humidity control norms. State-of-the-art reproduction and digitisation technology has also been installed.
The archives comprise published and unpublished literature, documents, audio and film material, photographs, as well as an extensive stamp and coin collection and memorabilia
Manuscripts: The GRF has been able to scan 33,327 handwritten pages of Mahatma Gandhi's documentation which include his letters to numerous prominent persons. The 19 diaries (consisting of 5,000 pages) of Mahadevbhai Desai, one of the closest associates and long-time Secretary of Gandhiji, have been restored and digitally archived. Similarly, the diaries of Manubehn (his niece), scanned in colour, are available for researchers and interested persons. Last but not least, 28,000 pages of Vinobaji's writings have also been collected and made available for researchers. An elaborate restoration process has been applied to these valuable documents, which has given them an additional life of around 1000 years, provided they are preserved under controlled conditions. All the material is available in high quality digitally printable form.
Documents: As a prominent Gandhian historian, Shri Dharampal (1922-2006) researched into the 18th and 19th century colonial records pertaining to Indian science and technology, education, political structures, etc. His historical documentary collection, comprising 40,000 pages, has been scanned, and is available as a digital archive.
Audio and film material: 152 audios of Gandhiji's speeches in MP3 format; 70 films on Gandhiji's life and his teachings are available as DVDs. The collection includes 44 English titles on Gandhiji made by the Film Division of India, 25 titles in Hindi, one in Marathi and one in Korean.
Photographs: The GRF has 4019 captioned photographs of Gandhiji in its collection along with 3,500 photographs of Vinobaji.
Stamp and coin collection: A philately collection originating from 114 countries depicting images commemorating Gandhiji can be viewed in the Archives. The GRF has succeeded in collecting all coins and notes issued by the Government of India on Mahatma Gandhi. Notes of denomination from one rupee to 1,000 rupees are available.
Memorabilia: The GRF has a rich collection of Gandhiji's personal possessions and other items, in particular, those used by Gandhiji during the 1936 national convention of the Indian National Congress at Faizpur. The objects include a garland made from khadi threads, Gandhiji's footwear, his bathing stone, etc.
The Gandhi Research Foundation is committed to maintain this invaluable national treasure in line with its core objective of preserving for posterity Gandhiji's legacy.
To ensure its completeness the GRF is in the process of digitising and archiving invaluable Gandhian resources held by various institutions, such as the National Archives, the Nehru Memorial Museum and Library, Sabarmati Ashram, Sevagram Ashram, as well as in private collections. This will enable researchers to access a wealth of exhaustive and extensive material on Gandhiji in a centralised place, i.e. at the GRF.