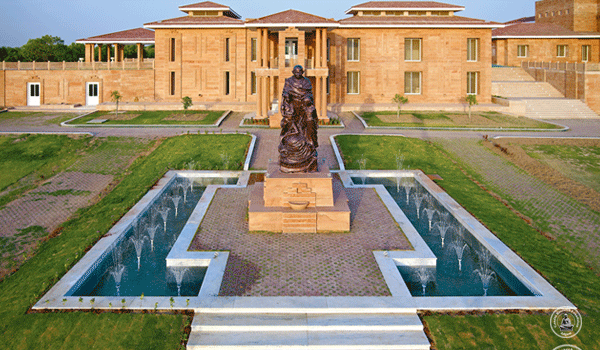 The Foundation is housed amidst afforested Jain Hills, 12 kms. from Jalgaon city. The location, the topography and the environment are in sync with the Foundation's aspiration of being close to nature, literally and metaphorically. The elements are well in place here. There are neem and mango trees, hibiscus and roses, parrots and peacocks, even monkeys. There is an infinite quota of fresh and clean air, this is zero-pollution zone. Potent positivity resonates throughout the entire Jain Hills area.
A beautiful mango orchard is juxtaposed on the right of the main structure, which has cobbled pathways to walk the talk. Visitors can relax and unwind on the mounded green sit-outs here, scholars can hypothesise, and Gandhians can contemplate.
The approach to the front facade is carpeted with rolling lawns, dotted with asymmetrically grown flora and flower beds. A little ahead, a magnificent 13-feet statuette of the Mahatma dominates the foreground, which enriches the astute decorum of the environment. The statuette is surrounded by a fountained water body with a peripheral path to pay homage to Gandhiji. The impressive front facade of the Foundation, covered in pale, liquid pink Jodhpuri stone, looms in the background.
Inside the complex, there are integrated facilities of teaching, study, observation, reflection, research and info-education, including conferencing and meeting spaces. The highlight of the building is the state-of-art Gandhi Museum, which is thematically perceived and has some cutting-edge technological features like tactile and gesture technologies as its medium of expression and story-telling. An exhibition on Gandhiji's life and times, more chronological in nature, adjoins the museum.
The structure and environment of the Foundation are green to the core. Local materials and craftsmen have been preferred where possible. The building material is totally eco-friendly for example, fly-ash bricks have been used for the entire construction in place of clay bricks. Natural insulation and air-conditioning has been facilitated in the integrated building design. Energy for the entire infrastructure comes from 100% natural resources, mainly solar power. The green credentials of the structure are endorsed by the LEED Platinum rating, one of the world's highest rated green building standard. It has already won the GRIHA-ADaRSH Award for low energy material application.
The GRF premise is spread over four acres of scenic landscaped hilly area. The structure itself is of 65,000 sft. and its entire external facade is covered with pink Jodhpuri stone.
The facility is sustainable. The building has been designed and built to last at least 3 centuries, and it will be able to withstand unscathed, seismic activity of 8.5 magnitude on Richter scale.